Amazon Echo | Talking Device | Cloud Based Voice Service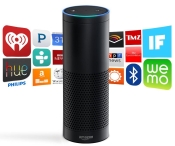 Amazon Echo a cloud-based voice service talking device is designed around your voice. Amazon Echo what is it? It's hands-free and always on. With seven microphones and beam-forming technology, Echo can hear you from across the room—even while music is playing. Echo is also an expertly tuned speaker that can fill any room with immersive sound.
Echo connects to Alexa, a cloud-based voice service, to provide information, answer questions, play music, read the news, check sports scores or the weather, and more—instantly. All you have to do is ask. Echo begins working as soon as it detects the wake word. You can pick Alexa or Amazon as your wake word.
* Information, music, audiobooks, news, weather, traffic, sports, and more–instantly
*  Controlled by your voice for hands-free convenience
*  Far-field voice recognition hears you from across the room
*  Connected to the cloud so it's always getting smarter
*  360º omni-directional audio to fill the room with immersive sound
*  Compatible with select Belkin WeMo, Philips Hue, SmartThings, Insteon, and Wink connected     * devices to control lights and switches with your voice
*  Plays music from Amazon Music, Prime Music, Pandora, iHeartRadio, TuneIn, and more …
Echo's natural life like voices result from speech-unit technology. High speech accuracy is achieved through sophisticated natural language processing (NLP) algorithms built into the Echo's text-to-speech (TTS) engine.
Overview of operation.
In the default mode the device continuously listens to all speech, monitoring for the wake word to be spoken, which is primarily set up as "Alexa" (derived from Alexa Internet, the Amazon owned Internet indexing company). The device also comes with a manually and voice-activated remote control which can be used in lieu of the 'wake word'. Echo's microphones can be manually disabled by pressing a mute button to turn off the audio processing circuit.
Echo requires a wireless internet connection in order to work. Echo's voice recognition capability is based on Amazon Web Services and the voice platform Amazon acquired from Yap, Evi, and IVONA (a Polish-based specialist in voice technologies used in the Kindle Fire).
Echo performs well with a 'good' (low latency) Internet connection which minimizes processing time due to minimal communication round trips, streamable responses and geo-distributed service endpoints. While the app is free, an Amazon account is required, and setup is not possible without one.
Although the Echo is intended to be voice-controlled at the unit, a microphone-enabled remote control similar to the one bundled with the Fire TV is available for purchase. An action button on top of the unit is provided for user setup in a new location, and the mute button allows the microphones to be turned off. The top half-inch of the unit rotates to increase or decrease the speaker volume. The Echo must be plugged in to operate since it has no internal battery.
Want to know more about Amazon Echo | Talking Device | Cloud Based Voice Service, please VISIT HERE! <—
Resource: https://en.wikipedia.org/wiki/Amazon_Echo